Surface Inspection, Precise Defect Classification
Web Ranger - Surface Inspection System
Easy to use tools and simple system setup
Higher product quality, better yields and lower costs of production
The Web Ranger is an optical surface inspection and defect classification system that provides a total quality solution for products produced in continuous webs.
The highly modular design allows the system to be tailored to any application based on web width, web speed and defect size (resolution) requirements. The incorporation of smart cameras with embedded processing resources enables the system to provide real time, 100% inspection of the material and rapid, accurate detection of defects.
Precise Defect Classification
The Web Ranger's advanced surface inspection classification engine can perform precise defect classification based on extremely subtle differences between defect categories. Using over one hundred extracted features and multiple techniques, the classification engine can be easily trained to reliably recognize distinct defect categories present in the material being inspected. Web Ranger's superior classification performance greatly enhances product grading, process control and overall quality control.
Defects Gallery
Click any of the material category links to the right to view examples of defects that Web Ranger can detect.
Please Note: All defect sample images are visually enchanced to allow the defects to be easily visible to the human eye.
Features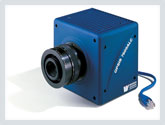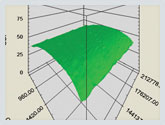 Advanced Classification
precise classification of defects into user-defined categories using advanced statistical (KNN) and non-linear heuristic methods (neural networks)
SQL Database
comprehensive database of defects with images, positions and all defect features
Automatic Archiving
automatic transfer of defect data to an external device or system based on user-defined criteria
Flexible Reporting
standard and custom reports of inspection results and statistics in tabular and graphical format
Trend Analysis
automatic detection and reporting of repeating defects
Formation Analysis
Graphical display of product quality based on calculation of a Non Uniformity Index
Defect Density
automatic defect monitoring based on user-specified criteria that assign points to defect class occurrences
Roll Grading
automatic grading of rolls based on user-specified grading criteria that assign points to defect class occurrences
Custom Digital I/O
to generate alarms, trigger marking and tagging systems, automatically start/stop jobs, etc.
Multi-Language GUI
English, German, Chinese, etc.
Factory Interfaces
Windows-based open architecture allows easy connections to other systems and devices via OPC, SQL Query, Ethernet, or custom digital interface
Access
Remote access via Internet for system maintenance and software upgrades
Support
24/7 Technical Support via Internet and Telephone Hotline
Cameras
The incorporation of smart cameras with embedded processing resources enables the system to provide 100% inspection of the material and rapid, accurate detection of defects. This allows the system to be easily optimized to inspect metallized plastic film, synthetic paper, fiberglass, woven textiles, coated nonwovens, glass and many more.
Web Ranger inspection solutions and classification libraries have been successfully proven for many industries.
Lighting
for Surface Inspection Applications
High-Intensity Illumination
Wintriss linear light sources are optimized for web inspection and the challenge of operating in a 24/7 production environment:
High intensity to 100,000 lux
Superior reliability up to 100,000 hours
Modular for any width web
Outstanding uniformity for consistent detection
Wintriss patented lighting products are the most advanced in the industry. Our Sodium Vapor and LED linear lights are specifically designed for web inspection applications:
HP Sodium Vapor – high intensity front light
LED Ranger (LED) – high intensity front or back light available in multiple wave lengths and intensities, diffused or focused
Refraction Ranger (LED) – collimated light for translucent materials
Whatever your surface inspection application, Web Ranger is a cost-effective solution that provides a rapid return on investment.
Compact, Energy-Efficient Lightsource
Proper illumination is critical to effective flaw detection performance. Lighting design must consider material texture, web speed, defect size and type, color and ambient lighting.
Wintriss lighting experts have developed and patented a series of sophisticated techniques and specialized lights that are optimized for surface inspection. We are the best in the industry at determining the most effective lighting solution for the inspection application. Wintriss has patented several innovative lighting techniques that expose extremely small defects that can't be detected by other systems. The clarity of the images produced using these techniques results in reliable detection and accurate classification.
Modified Schlieren for plastic film and glass
Bi-Level Lighting for 3D defects in metal, film and glass
Software
A powerful classification engine quickly and accurately sorts the defects into user-defined categories to aid in production quality control and process improvement. All defect data can be viewed in real time and is also stored in a comprehensive database for subsequent review, analysis, reporting and archiving.
Labelers
Tagger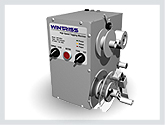 Specification
Size 270 x 270 x 260mm( HxWxD )
Line Speed Maximum - 300 M / min
Working Speed Maximum - 10 Piece / sec Maxs
Standard Tag 20 x 30mm( LxW ) customization
Power 220V AC
Installation Install by Tracked (Can push away if unused)


Positioner by optical fiber, and compensate inaccuracy automatically.
Stick on products by pushing roll.
Provide no-paper-alarm dry connect (DC 24V, 1A max).
Stick on product by friction, it can make the working speed stablely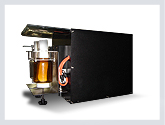 Marker
Specification
Function
Real-time mark
Make sure of capillarity by woolen blanket, action by air pressure, mark near defect immediately (Automatic edge tracking)
Maximum mark speed
1600 M/min
Maximum mark width
25mm
Standard travel
800 mm (9 meters max)
Reaction time
100 ms
Printing Head
Hard woollen blanket
75 X 25 X 130 mm (Consumables)
Ink pot
Acrylic bottle 200 C.C.
Air pressure cylinder
Travel for 15 mm (Need air pressure 5 Kg/mm2)
Optical fiber sensor
Omron E3X-NAII
Part of Transmission
Motor
Smart motor (With PLC inside)
Gear organize
High rigidity gears
Trajectory
Low weight aluminum products
Orientation
Orientation by OMRON EE-SX672
Electric Control
System voltage
220V, 1Φ, 3A max
Maximum power
250W
Interface
RS-232
I/O box
350 X 450 X 200 mm
Software
Software Update
SMI (Smart Motor Interface)
Overseeing
HMI (Human Machine Interface)
Support & Installations
Available Worldwide
Our Web Ranger system has been installed at over 250 locations in 16 countries worldwide. With local support available across the world there is no better choice for your surface inspection needs than Wintriss.
Contact a Representative
Learn more about our products, get your questions answered or schedule consultations and installation.
Wintriss Inspection Solutions
Visit our International Distributors page or
visit the Wintriss Inspection Solutions site.
Wintriss Engineering
Visit our Contact page or
USA Toll Free: (800) 550-7300
Phone: (858) 550-7300